Let us do the dirty work for you!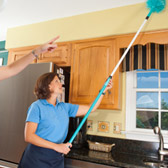 You work hard. Every day. Sunday through Saturday there's work, school, pets, kids, significant others and all possible combinations of the above! Housework is just one more thing on your to-do list, and it can lead to serious burn-out. Either you're guilty because the housework isn't done, or you're guilty about doing it and leaving something else undone! Mighty Maids can help! We've successfully served northeast Ohio since 1980, cleaned over a quarter million homes, and are committed to bringing that same level of professionalism into your own. Our trained, uniformed, bonded and insured (including workers comp) professionals will treat your home as if it were their own. Our teams of Mighty Maids bring supplies, equipment, and elbow grease with them - all you have to provide is an open door! It's time to enjoy the good life, and let us do the dirty work for you!
We are flexible and can work with your schedule. Think a once a month, top-to-bottom cleaning is all you really need to stay on top of built-up clutter and mess? We're there for you. Want a little more frequency and a little less disruption? Try our bi-weekly service. Overwhelmed by kids, pets, a spouse and an 80 hour work-week? You can depend on us to keep your home running smoothly while you take care of more important commitments
Let us take care of your household cleaning chores! An Ohio maid service could be the missing piece that changes everything for you - freeing up time to spend with family or on yourself, and relieving the worry and guilt over a dirty house.
Call us for more information or to schedule an appointment. We have the right maid service team for your needs - they just need their marching orders! Ask about earning discount on our referral plan, or how to qualify for a free home cleaning with our rewards program!
Referral Program
Refer a new customer and both you
and them receive a $15 coupon
Click Here
Hot Deal
Purchase 5 cleanings
and your 6th cleaning
is FREE! Click Here.